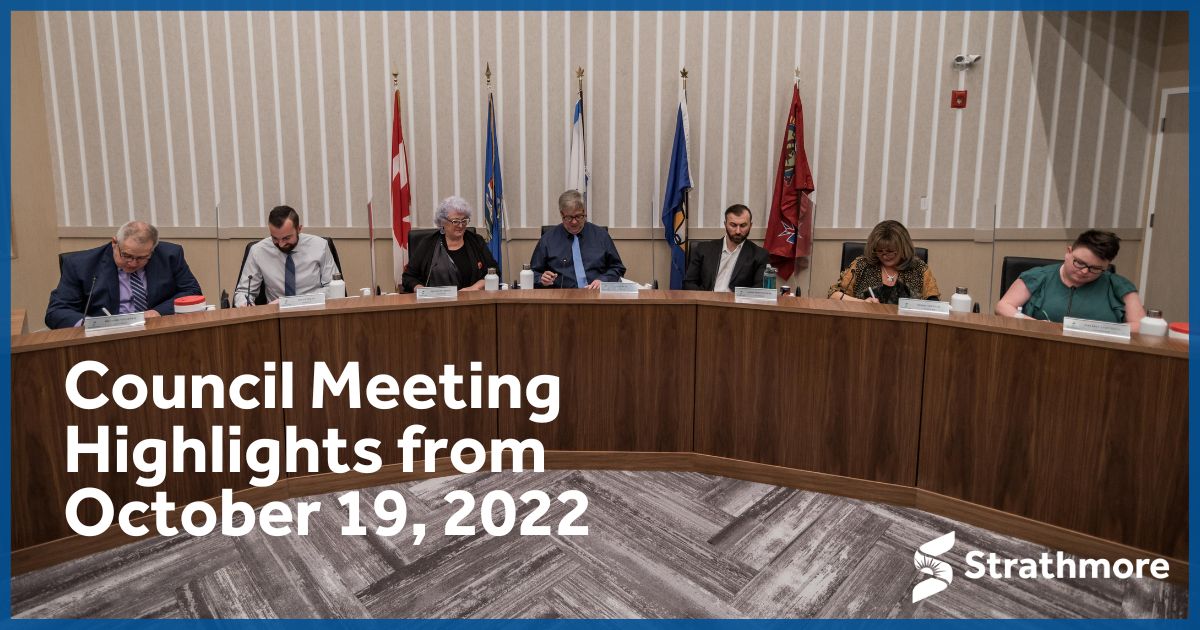 Council Highlights provides a brief review of the information and discussion provided at Strathmore Town Council Meetings. Council Highlights are not presented as official minutes of the meeting. Official meeting minutes can be accessed on the relevant date on the Council Calendar.
In attendance: Mayor Fule, Deputy Mayor Peterson, Councillor Langmaid, Councillor Mitzner, Councillor Montgomery, Councillor Wegener, Councillor Wiley
1. STARS (Shock Trauma Air Rescue Service Foundation) Delegation
STARS (Shock Trauma Air Rescue Service Foundation) presented their annual update to Council. Delegation presentation by Glenda Farnden, Senior Municipal Relations Liaison. Watch this moment here: https://youtu.be/PnOYwoGL9ng?t=86
2. 2022 Citizen Satisfaction Survey
Lachlan Milne of Framework Partners presented the 2022 Citizen Satisfaction Survey results. In August 2022, Framework Partners conducted a statistically balanced survey of residents regarding quality of life, expectations, and satisfaction with Town operations. The survey was conducted using the same methodology and research firm as 2021, offering a valuable comparison. Overall, the survey indicates that satisfaction with the Town's performance has substantially increased. Council's Strategic Plan is well-aligned with resident priorities. You can watch this moment here or read the presented report here.
3. Property Tax Relief Policy
Council adopted Property Tax Relief Policy No. 1812. This policy provides a framework for Council, in the exercise of its discretion under section 347(1) of the Municipal Government Act, when considering requests from property owners for property Tax Relief. You can watch this moment here.

4. Celebration of Lights Funding Request
Council approved a funding allocation of $10,000 for the 2022 Strathmore Agricultural Society's Celebration of Lights. You can watch this moment here.

5. Land Use Amendment
Council gave first reading to Bylaw No. 22-25, being a Bylaw to amend the Land Use Bylaw No. 14-11. Council directed Administration to schedule a Public Hearing for Bylaw No. 22-25 for December 7, 2022, at 6:00 p.m. in Council Chambers. Watch it here.

6. Traffic Control Bylaw
Council Gave 3rd and final reading to Bylaw No. 22-06, being the Traffic Control Bylaw and directed Administration to develop an education program on emissions and idling. Watch it here.

Watch the full meeting here:
Part 1: https://youtu.be/ukmYxpkqAgY
Part 2: https://youtu.be/PnOYwoGL9ng